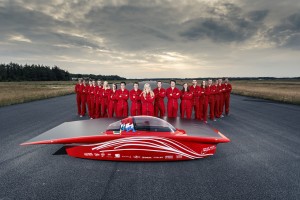 The Solar Team of the Technical University (TU) Twente has designed a revolutionary car completely powered by solar energy. A team of more than 19 "Red" Engineers joined forces with partners from the innovation industry to build a solar car that would be worthy of competing in the bi-annual 2015 Bridgestone World Solar Challenge. This bi-annual 3000 km race from Darwin to Adelaide in Australia will feature 30 teams from all over the world competing in the Challengers division.
This year's 13th edition will take place on the 18th of October 2015 with Xtreme Districts as one of the high-tech companies that will be facilitating the TU Solar Team alongside Fokker Aerostructures, the Royal Dutch Air force ("Koninklijke Luchtmacht"), the National Air and Space laboratory ("Nationaal Lucht- en Ruimtevaartlaboratorium"), Thales Group and Ten Cate. Thanks to these premium partners, the team will have access to the latest and most advanced automotive technology to battle the extreme conditions that lay ahead.
For this monumental adventure, Xtreme Districts will supply all vital components for this endeavour. We provide all satellite hardware and data communication necessary during testing and during the actual race.
In the coming months we'll keep you in the loop of preparations. And, of course, during the actual race in october, we'll share the latest developments and news facts with you.