Dubai to Muscat Race
Impressive Start
Start: 29th November 2015
Dubai, UAE to Muscat, Oman
Approx. 350 Nautical Miles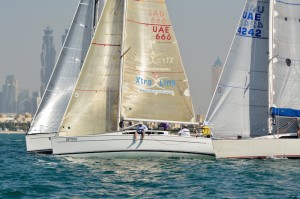 Dubai to Muscat Yacht Race start along the impressive backdrop of the City of Dubai
(Xtra-Link/Louay Habib)
HE Sheikh Khaled Bin Zayed Al Nehayan, Chairman of UAE Sailing and Rowing Federation, welcomed the competitors to the 24th edition of the Dubai to Muscat Yacht Race, which got off to a perfect start outside the Dubai Offshore Sailing Club. A northerly breeze of close to ten knots gave the fleet a tight reach for the start, along the impressive backdrop of the City of Dubai.
Yachts from seven different countries and crew from all over the world, are taking part in the region's longest running and most prestigious offshore race, which is recognised by the Royal Ocean Racing Club. The 350-mile offshore race takes the fleet through the Arabian Gulf, through the complex Straits of Hormuz and into the Indian Ocean to finish the race in Muscat, Oman.
Hannes Weimer's German Landmark 43, Atari 7, got away well at the Committee Boat end to lead the fleet at the start. Several yachts headed offshore, potentially anticipating that the northerly sea breeze may disintegrate during the afternoon, replaced by a easterly head wind. This scenario will favour the boats offshore. Weather forecasts predict a fair easterly breeze during the night, giving upwind conditions in the Arabian Gulf.
All of the competing yachts are equipped with Xtra-Link Trackers and Thuraya TX satellite phones. Daily updates including; blogs from the boats, pictures and video will be posted. To follow the fleet visit:Â www.xtra-link.com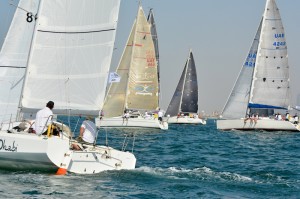 Competitive start for the Dubai to Muscat Yacht Race (Xtra-Link/Louay Habib)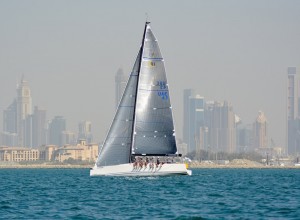 Hannes Weimer's German Landmark 43, Atari 7 (Xtra-Link/Louay Habib)
-ENDS-
Notes to Editors
All images are free to use for editorial about the Dubai to Muscat Yacht Race but must be credited: Xtra-Link/Louay Habib
For High Resolution Images and other requests contact:
Louay Habib
email:Â louayhabib@gmail.com
Cell Phone:Â 00971563289726