Xtra-Link have been working since 2005 to provide you with reliable communications whether at sea, on the peak of a mountain, or isolated inland.
Based in the Dubai Airport Free Zone with branch offices in the Netherlands and Cape Town, Xtra-Link can ensure you have the equipment, airtime and accessibility that is best suited to your needs. We can provide you with radio or satellite communications if you're an international corporation with projects in the harshest environments or one intrepid explorer keeping everyone at home up to date.
We have experience in keeping any customer connected in any remote region and for any need. From NGOs, the oil industry, sailing races, mountaineering, travelling media and the shipping industry, we will provide you with radio communication to keep in touch with each other in harsh work environments, Internet to keep in touch with loved ones or global reception to keep in touch with those that you may need in a crisis.
Wherever you are, trust us to make sure that you are never beyond reach.
Word from the CEO and founder of Xtra-Link, Hans Kuijt.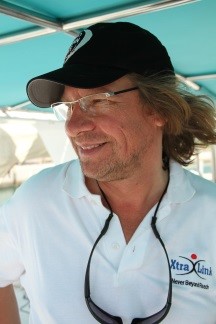 We founded the company back in 2005 with only two staff and a small office in the Dubai Airport Freezone. Today we are a proud team of 12 staff divided over three countries. In 1981 I joined my first merchant navy vessel as a radio operator, today Xtra-Link still has strong ties to the maritime world and is not only a leading service provider for companies like Thuraya but we also supply state of the art B&G navigation equipment to the Melges 40 fleet, one of the most advanced sailing yachts ever made in Dubai.
The last 12 years have seen a steady increase in products and solutions with Xtra-Link and we are currently working hard on the next 12 years with in-house solutions not only for ships and yachts but also for aid agencies, mountain climbers and basically anyone out there in remote places.
Land department,  managed by Hussein Al Qassim
I have over 15 years of professional experience in RF telecommunication system. I have been involved in various roles ranging from building up many radio networks from scratch and contribute my expertise in all aspects of running an RF system. My goal is to help our customers successfully design and implement their radio communications systems. Hence most of my teams' work revolves around providing technical guidance on all aspects of MOTOTRBO (DMR); (TETRA), LMR products, HF system, satellite communication, in-building design.   I am a team player, positive thinker, dedicated employee and fast learner and I believe for every problem there is a solution.