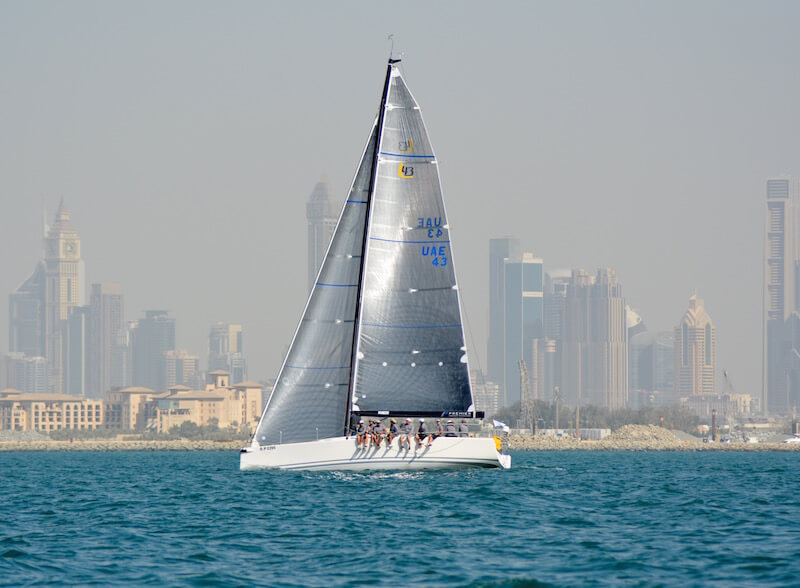 At 0700 local time on 31 October, the yachts racing in the Dubai to Muscat Yacht Race were experiencing upwind conditions in the Indian Ocean. Mini Transat, Abu Dhabi, skippered by Bret Perry has taken shelter in the Musandam region, the rest of the fleet had covered approximately 50 miles over night into the wide expanses of the Indian Ocean. Night sailing in the region brings with it plenty of comfort, with magnificent constellations in the clear air but also escape from the intense heat. During the day, the temperature on deck has been over 35 degrees centigrade, at night this drops to the high 20s.
Hannes Weimerā€™s German Landmark 43, Atari 7, has opened up a 12 mile lead at the front of the fleet from Doug Hassellā€™s British First 44.7, Diablo. David Worrallā€™s British First 36.7, Shahrazad made some big gains during the night and is now lying third just five miles astern of Diablo.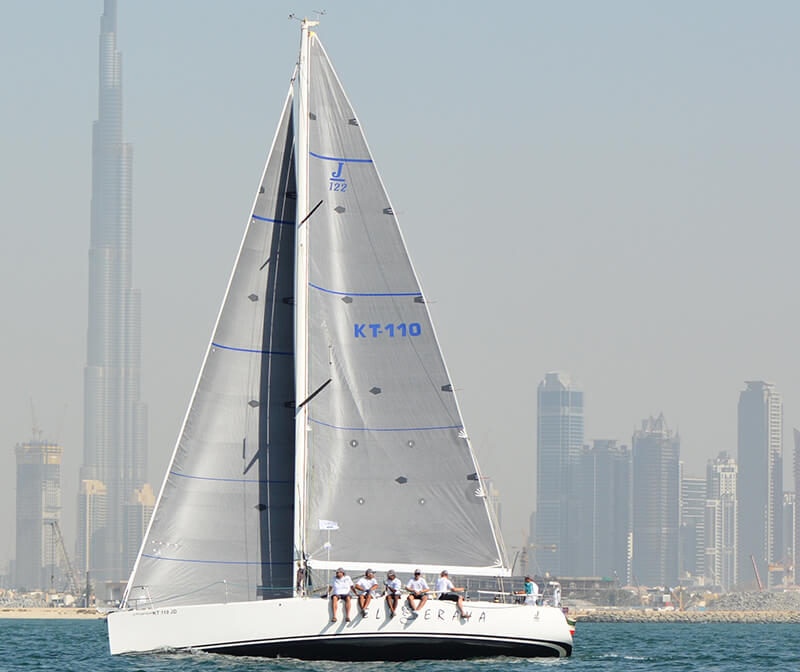 Fawzi Sultanā€™s Kuwaiti J/122 El Seraya, chose a different tactic to the rest of the fleet, staying to the west of the rhum line and made a good gain. Hans Kuijtā€™s Dutch Dehler 32, Meerkat chose to head to the west last night. These two yachts are most likely looking for sea breeze to kick in during the day to give them lifting pressure up the Omani coast line.
Craig Turnerā€™s Fast 42, Bobbie has been going well and is now challenging the leading yachts. Crew member ā€˜Fletchā€™ got in contact with the media team last night. ā€œWell we have finally got everything going after a frustrating stop-start to the race. The team are doing well and the sailing has been glorious after we turned the corner at Hormuz. It might be uphill but the water is pretty flat and it is great to be out in the open ocean.ā€
The competing yachts look set for more tactically challenging conditions in the Indian Ocean. 800 miles away a cyclone is raging. The severe weather is far enough away but itā€™s effecting the area around Muscat by sucking all of the wind to the south west, creating a fickle breeze on the race course.The majority of the fleet are expected to finish the race within the next 48 hours
All of the competing yachts in the Dubai to Muscat Race are equipped with Xtra-Link Trackers and Thuraya XT satellite phones. Daily updates including; blogs from the boats, pictures and video will be posted. To follow the fleet visit:Ā www.xtra-link.com