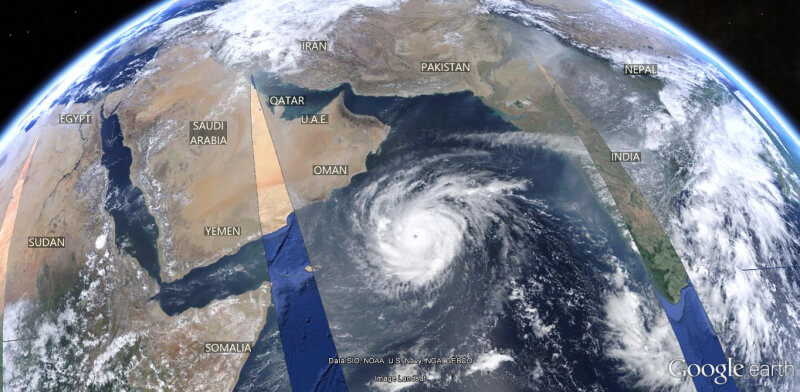 At 0700 local time on 1st November, the yachts racing in the Dubai to Muscat Yacht Race were experiencing more upwind conditions in the approach to the finish outside Marina Bandar Al-Rowdha. Over a thousand miles away, the rare cyclone Chapala peaked last night at 150 mph but despite its distance from the fleet, the effects are still noticeable but quite the opposite effect. Light headwind is the result for the crews racing in the Dubai to Muscat Race.
"It is still very hot on deck and food rations are down to pasta and packet sauce. We are really looking forward to a proper meal and a cold drink at Marina Bandar Al-Rowdha." commented Hans Kuijt via Thuraya's XT Satellite phone. "After getting becalmed back at Hormuz, we started to catch up the front runners only for the wind to go light again and to see the leaders get into more breeze and pull away was very frustrating. Last night was pleasant night with a waning moon so nice and bright but very little wind, just doing on average some 3 knots but it is picking up againthis morning and we are running at 5.5 knots now. Hoping to arrive Monday morning at around 5 am."
Four yachts are in the leading pack, which are expected to finish the race today. This leading pack are into solid pressure now and are pulling away from the yachts behind. Doug Hassell's First 44.7, Diablo, is revelling in the fresh conditions and was the race leader this morning with 50 miles to go. Three miles behind, David Worrell's First 36.7, Shahrazad and Hannes Weimer's Landmark 43, Atari 7 were battling for second place and Craig Turner's Fast 42, Bobbie was just behind the top three yachts.
As the sun rises on the fourth day at sea, the tactical challenge for the fleet will be the final approach to Muscat. Fresh breeze emanating from Cyclone Chapala has arrived from the east but to the west the rocky Al Hajar Mountains, which dominate the landscape of Muscat, often bring a westerly sea breeze. Perhaps the two winds will cancel each other out, creating one last transition zone and a final twist to the Dubai to Muscat Yacht Race.
All of the competing yachts in the Dubai to Muscat Race are equipped with Xtra-Link Trackers and Thuraya XT satellite phones. Daily updates including; blogs from the boats, pictures and video will be posted. To follow the fleet visit:Â www.xtra-link.com