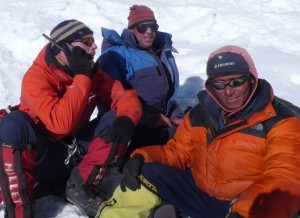 Bad weather in Nepal kills more than 25 trekkers and many are still missing: why good communication equipment is crucial?
Sadly; bad weather sparked by Cyclone Hudhud hit the Himalaya range full on Monday the 13th October. In short time period meters off snow fell out of the sky trapping Hundreds off trekkers on the high Himalayan passes. What should have been an "easy" Himalayan trek, turned into a total nightmare! Many managed to get down to safety, but unfortunately many got trapped and got killed; many people are still missing and the authorities have not a good idea where these people are.
As a professional Expedition leader living in Nepal for over a decade I am shocked by this bad news. Although there is a registration system on all the trails in Nepal; this system should give an idea where trekkers are, it's seems to totally fail. The first question that pops into my head is: why are people not in communication with their home front, travel agency etc. and vice versa?
In a developing country like Nepal you can't rely on a normal GSM network. Besides reception problems in the high mountains and remote areas, there are many political problems also. Frequent electricity cut outs happen daily or the Government just shuts down the whole system during election times etc. To be sure you can communicate make sure a Satellite Phone, Tracker (many off these can send and receive text messages) or Data connection should be part of the standard trekking equipment. Thuraya systems seem to work best in the Himalaya and are the most reliable. The Thuraya satellite is a stationary satellite and is situated relatively close to the Himalayas; this means a "big angle" to get a good reception. With a "big Angle" you can shoot over "obstructions"  like: big mountains or high passes standing in the path to the satellite signal.
At the moment off the disaster I had several trekking and Expedition groups in the problem areas. All the groups are equipped with Satellite communication equipment. This way the groups where able to inform us about their exact position and we could update them with the latest Weather Forecast; we rerouted most groups or simply told them to stay put.
Satellite communication equipment can save your life!
Arnold Coster, Expedition leader