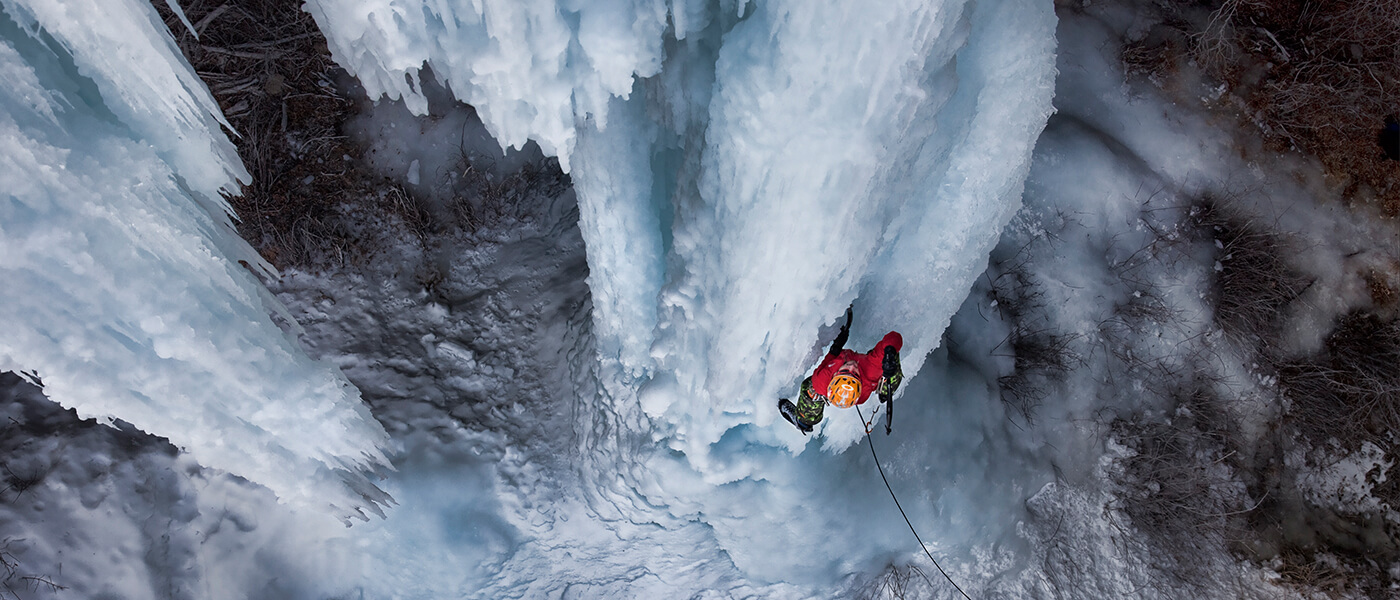 At Xtreme Districts we have a special relation with the exhilarating world of mountain climbing through our friendship with Adrian Hayes and Arnold Coster, who both use our products. They keep us updated on the fantastic adventures they experience.
Makalu 8481m; a perfect climb became a nightmare!
"The view on Makalu 8481m from the summit of Everest is almost intimidating; the moment I saw the black pyramid rising from the valley floor, I knew I wanted to
climb this mountain one day. When I was climbing Baruntse in 2009 Makalu is towing above our camp 1, every evening it's "on fire" when the sunset makes the whole mountain glow almost gold. I had to go and climb this mountain!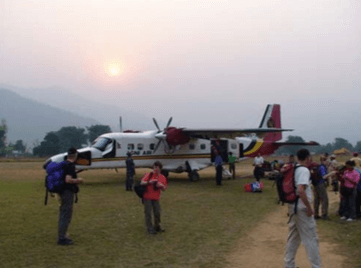 In 2010 I gathered an international team with members from: Netherland, Turkey, Greece, Israel, Switzerland and the Uk. Together with approximately hundred porters for our equipment we set off for the 11 day approach to its Base camp. The approach starts with an exciting flight to a small "dirt" strip called Tumlingtar. From here we can take a 4WD to Chichila a small town along the way, from here the trekking started. First the trail climbs to Num before it plunges back in to the Arun river valley. The trail descents all the way down to approx. 400m in Altitude; its
Tropical warm here, what makes the trekking challenging. The next couple of days the trail mainly goes up, after we pass the last settlement of Khongma there are no more villages. From now we have to set up camp every day or sleep in the caves along the way.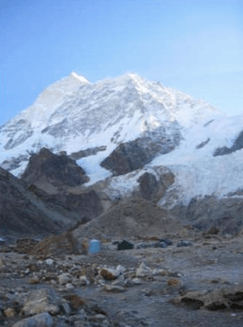 The first good view we get on Makalu is when we cross the Shiton La pass at 4220m. The black pyramid is rising above the blossoming Rhododendrons. Day by day we slowly get closer and the mountain gets bigger until we finally reach Base Camp and start our climb!
Makalu is considered to be one of the more difficult 8000m peaks and therefore attracts less people as for example Everest. We only occupied Base Camp with three other teams: German, French and one more international team.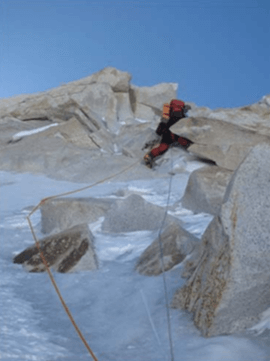 The climbing to the first camp is a steep ice wall, then to camp 2 you have to cross some crevasses until you are at the bottom off the Makalu la. A steep "gully" that leads to the col what is the border between Nepal and Tibet. The climbing to the col is on mixed ground between slabs off rock and ice gullies. This is probably the crux off the climb. We only got the chance to reach
this place once before we tried for the summit. A two week bad weather period kept us in Base Camp; this is the hard part off climbing! To prevent boredom would lose our interest in climbing, all teams started to organize little meet's and parties!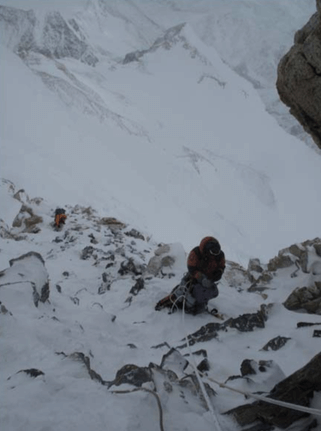 After two weeks off sitting around we finally set off for our summit attempt. We knew the good weather was not going to hold for long, so we decided to do our summit push from Camp 3 at 7400m; what actually is a ridiculous long day! The route continues over the col, what is a kind off plateau until we reach a couloir that leads to the summit ridge. The couloir is called "French Couloir" and give some challenging climbing, especially at this altitude.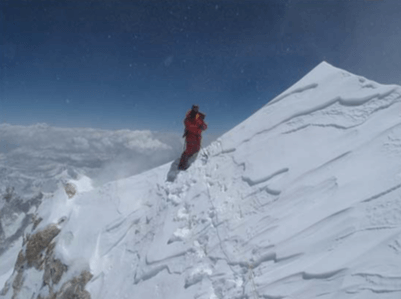 When you "exit" the couloir you end up on a knife edge ridge eventually leads to the summit. Climbing on the ridge is terrifying; one side drops 2000+ meters down to Nepal and the other side to Tibet! The ridge is covered with "Sugary" snow that slides down every step you make raising you heart rate every time your foot slides down! After following this reach for an hour or two we finally reach the summit; not more than a windblown cornice. The summit is very small and it only fits two climbers at the time.
We were ecstatic, but soon we found out that joy would turn into a nightmare…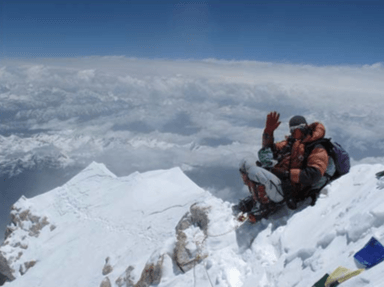 When we descended we still found one off our fellow climbers climbing up. It was getting late and we urged him to go down, but he was not willing to listen to any off our advice. We even got into a small fight at 8350m! We decided to let him go, later we found out this was the last time ever seen him again. All we heard from him again was a radio call next morning saying he was lost. We searched for him for serval days, but never found him………after a while we had to assume he couldn't survive longer on this altitude and stop the search.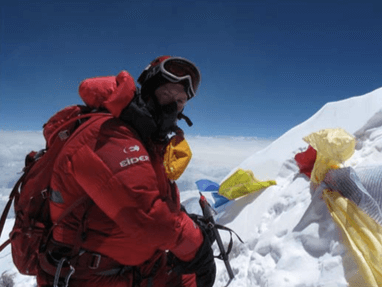 We continued our descent and I found one other member off our team; hanging unconscious in the "French Couloir". I lowered down the victim from the French Couloir until I reached flatter ground at the bottom. I stated to drag the victim to camp 4 several hours from here! I was all alone and had no help…..all I could do is tie the rope between us and keep walking; in the hope I will reach the camp before dark. Along the way I fell in a couple off crevasses, but fortunately I was attached to the unconscious victim what was enough counter weight to hold my fall…….finally after several hours I saw our Sherpa's approach from below; help! I was totally wasted and the Sherpa's brought the victim who was conscious by now to camp 4. We spend all nigh keeping the victim awake, afraid what would happen if she would sleep. Once she reached Base Camp she flew back to Kathmandu by helicopter, later we found out that her lung collapsed that day and she spend several days in intensive care at home.
Until now this was the hardest climb of my life!"
ARNOLD COSTER
Expedition Leader