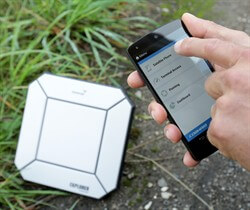 Cobham announced yesterday that the new BGAN SmartHub Explorer E510 will be available in December 2014. Again ultra portable and it harnasses the the power of the new Explorer Connect App, which turns Android and IOS smartphones and tablets into powerful satellite communication tools.
It's the smallest EXPLORER BGAN terminal ever (smaller than your standard size laptop 20x20x4cm and only 1.4kg) but despite that compact size it delivers reliable communication in any conditions at (up to) 464 kbps and 128Kbps streaming.
All devices connect wireless via wifi to the terminal or by cable through USB and WLAN.  With the Explorer LTE/4G USB Modem you can connect to local cellular networks in combination with the Explorer E510 (available Q1 2015).
Great stuff! We, at Xtreme Districts can't wait to have it available for you. Pre order if you wish and we will make sure you are one of the first to be able to use it for your work in the field and get your job done properly.